Zorro

| | |
| --- | --- |
| Date of birth | October 19 1998 |
| Sex | Male |
| Name | Zorro La Sorpresa Peluda |
| Nicknames | Zorriemorrie, Zorretje, Supermees, Big Mees, Boos Aapje |
| Peculiarities | Starts meowing like crazy when the tin with catfood is being filled, loves feathers, meows long and mournfully when you pick him up, sits in every tray or bucket he can find, hits the water a couple of times with his paw before he drinks it. |
On the left you see Minet and
Tiger
in the arms of Ronald (Who is obviously rather tired).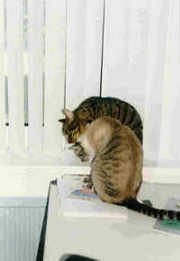 Zorro was our first traditional Siamese. After the death of our cross breed Siamese, Minet, we missed his Siamese traits so much that we decided to look for a cat which would have the same characteristics.
So we tried our luck at several Siamese catteries. What a disappointment that turned out to be: the Siamese we saw were all fragile creatures with giant bat-like ears and nervous dispositions.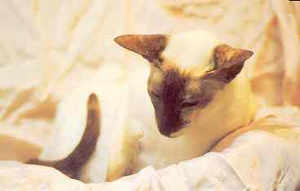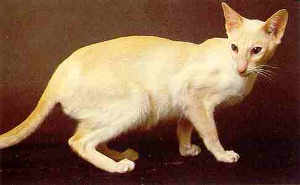 Above and on the right a modern Siamese.
After scouring the internet for some time we got lucky: a breeder in the north of Holland had two traditional Siamese and was willing to give us a kitten when her cat got another litter. She warned us though that we would have to wait for some time, because there were no kittens at that time and she did not want her cat to get pregnant too often. After searching in vain for so long though, we did not mind to wait a little bit longer.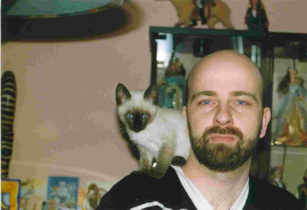 So when her call came in October 1999 we were actually taken by surprise. Her cat had given birth to a litter of lovely little seal points and we had first pick. We chose the biggest and most forward little devil and decided on the spot we would call him Zorro.
Zorro was brought to our home the day after Christmas and he was a regular Xmas-present. His silly pranks and good natured behavior made us fall in love with him immediately.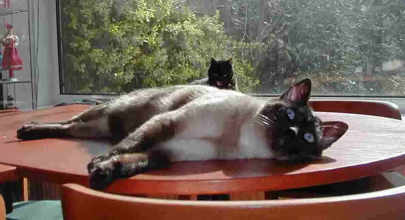 Not at all like the sturdy tomcat we used to have. We learned that Siamese cats had changed considerably over the years, due to changes in standards, and that the Siamese we had learned to love and cherish were no longer to be had. Or were they?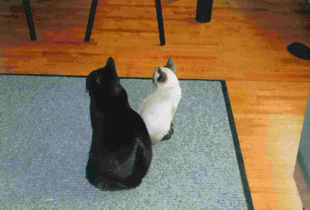 We discovered there were still a couple of breeders left who bred their cats according to the old standards. Those cats were called "Thai" or "traditional Siamese".
Siamse cats were being directly imported to Britain in the 1930s--Oriental Minoo Pinklepurr (left) and Orienmtal Nai Tahbi (right).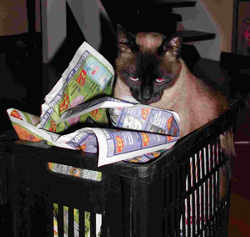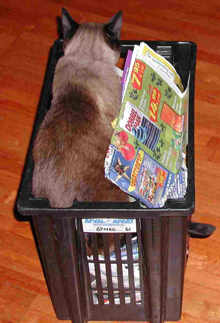 Zorro playing in the paperbasket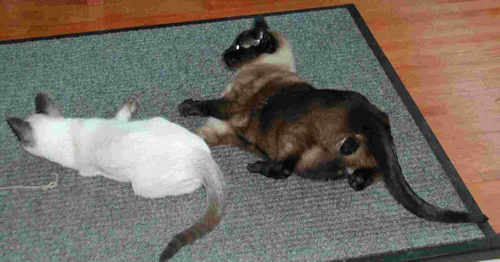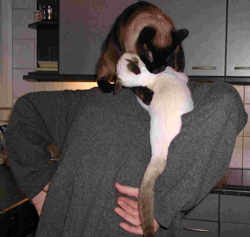 Zorro and his girlfriend,
Luna
.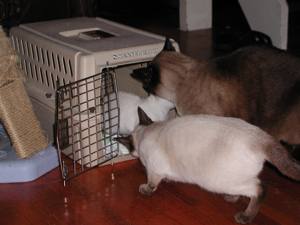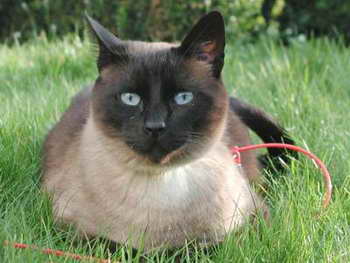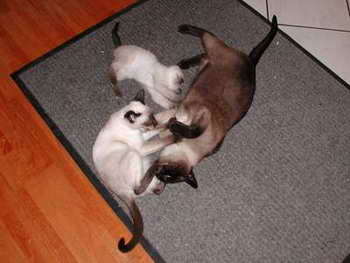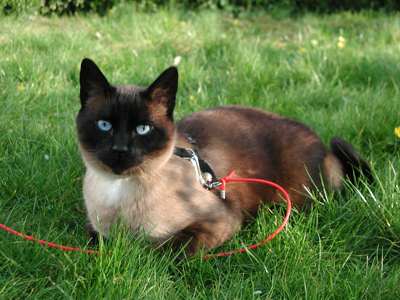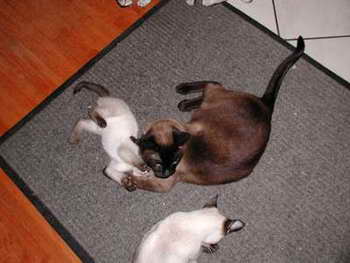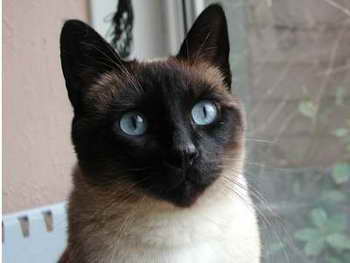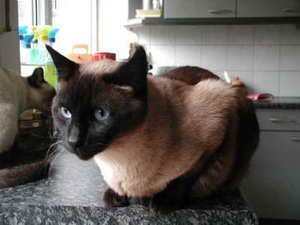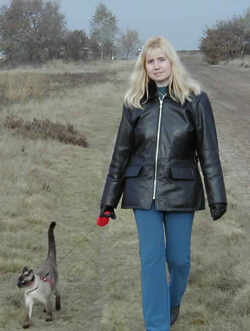 Zorro likes to take a walk in the country side. So if the weather allows we take him out for a walk. By looking at his tail you can see that he is enjoying himself.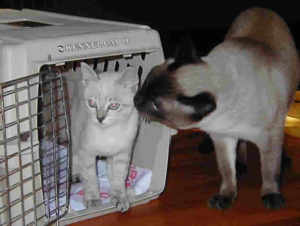 Somehow one Thai recognizes another.
When Donna was introduced to the other cats, Zorro was the first to seek her out. But Donna was scared and did not want to leave the carrier. Zorro thought it took too long and tried to convince her that it was nice outside.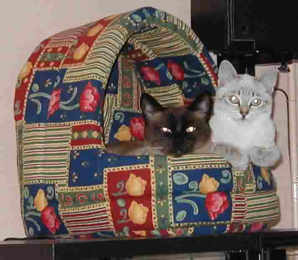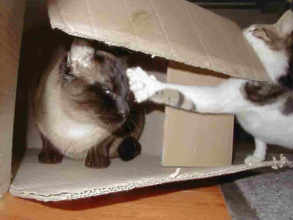 Left you see both Thai's,
Donna
and Zorro, sharing a basket on the cupboard.
A cardboard box is a great toy. Farah is whacking Zorro on the head trying to get him out of the box.
On the Right you also see the two brothers 2 years later.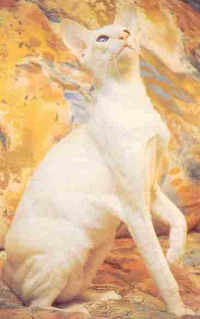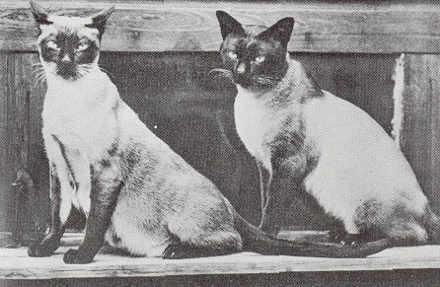 Zorro has been neutered by now and has turned into a huge cat. But he is still the same sweet naughty cat he was when he was little.
Look at the left uppercorner of the fireplace. Prints of Zorro?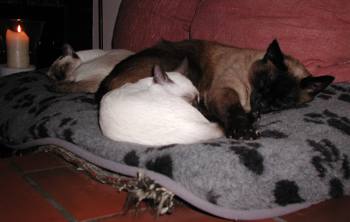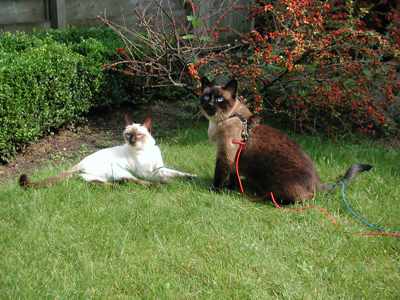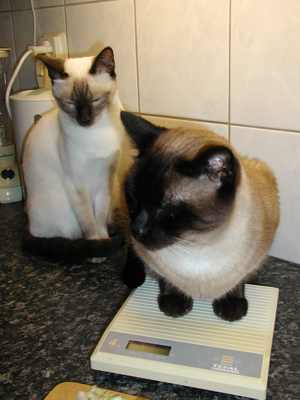 Zorro and Luna in the kitchen while we cook.
Zorro and Luna in the garden